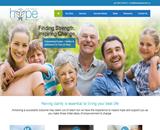 The Family Hope Clinic in Langley provides the best in art and play therapy and expressive modalities, which are natural modalities for children and youth to express themselves and their unique experience of the world in which they live.
If your child is exhibiting behavior that is causing concern at home or at school, you may consider placing a call to the Family Hope Clinic in Langley to talk with one of their professional clinicians to learn what they can do for your child. Play Therapy is often an excellent means to allow your child to self-express and bring to the surface causes for behaviors.
Play Therapy is based upon the fact that play is the child's natural medium of self-expression. It is an opportunity which is given to the child to 'play out' his feelings and problems just as, in certain types of adult therapy, an individual may talk out his difficulties.
Your child will be given a tour of the playroom during his first visit and then become oriented to the different choices and methods of expression. The playroom at Family Hope hosts many therapeutic options, some of which include:
– Sandtray
– Dollhouse
– Games
– Children's therapeutic books
– A large collection of puppets and dolls
– Many other various toys
The playroom is a unique and special place for children, where non-directive play unfolds and provides them with multiple opportunities to create a window for the therapist to observe their lived experience and the conflicts that may be felt or perceived by them. Family Hope therapists have over 30 years of combined experience, enabling them to understand that the safety and quality of the therapeutic relationship with the therapist is a key ingredient to achieving successful therapeutic outcomes.
Through the use of the symbols that your child uses, emotion, thoughts, memories and choices the child encounters in daily life are revealed to the therapist. This modality of play allows children the ability to interact with their personal symbols, thereby unconsciously bridging self-acceptance, safety in the world, closure and healing. The modality of play therapy is most welcomed by children and they often work silently, due to its gentle nature and responsiveness to their natural mode of being.
The Family Hope Clinic is a trusted place to bring your child for Play Therapy in Langley. They will feel safe and respected within the unique environment.
The parent-child relationship is the most important, and the parent is the child's first teacher. At Family Hope Clinic, they honor this important relationship and work to resolve conflict within by repairing and enhancing the connection between a parent and child. They provide the perfect support to parents to have the tools to support their children and their family's important needs. In some cases, they may with with the entire family to enhance connectedness and healthy family support.
Let the skilled professionals at Family Hope Clinic work with your child in Play Therapy to bring their issues to the surface and then begin the process of bringing healing and restoring wholeness.