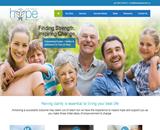 If you are in the Surrey area and are experiencing issues that cause you to believe you're in need of family counselling, The Family Hope Clinic is there to meet your needs and provide the best professional counselling services available. Family Hope helps families in Langley and Surrey BC to understand one another and their different perspectives, attitudes and behaviors. Understanding various perspectives is supported through the practice of listening, empathy and curiosity. This can be achieved by working with the family through a combination of individual child/parent sessions, as well as with the family as a whole.
Through the services of family counselling, your family can learn the skills to value differences within your family, as members gain awareness of healthy connections. Every family has unique strengths and skills. The role of the therapist is to provide the support needed to identify and build upon existing strengths and gifts held by individual family members and the system as a whole.
Special education designed to increase parental knowledge of normal child and youth development is provided to help build a solid framework to understand and manage behavior. Families work together with the therapist to build a toolbox of strategies that foster the connection, communication and laughter. By using these tools, they can increase confidence and resiliency, which can be drawn upon during especially challenging and stressful periods that occur within the lifespan of all families.
The Family Hope Clinic has been empowering couples, families and individuals for more than 20 years, by providing the excellent services that are desired to enrich and build relationships and cope with unique life challenges.
When you make the call to Family Hope Clinic at 604.510.4673, you'll be in touch with one of their professionals who will able to answer all of your questions and get you well under way to receiving the specific care that you need. Talking to someone at Family Hope will help you understand why they have been the trusted Family clinic in the Surrey area for so many years. Their growing satisfied client base will ensure you that you've called the right place. You can even go to their website at familyhopeclinic.com to read through their many success stories from real people who have benefited by calling Family Hope.
The Family Hope Clinic is a place of hope and collaboration for couples, families and individuals. Their services and packages address the most prevalent issues in mental health, namely anxiety and family related concerns. They are committed to offer timely, relevant services that will help families build strong relationships and learn new strategies so that they can cope with the issues their family is facing.
At Family Hope, they respect and value all people for their unique qualities and strengths that they bring to the counselling relationship. Their main desire is to equip you with new skills that you can use within the structure of your family to build better relationships and cope with the challenges that you will face.