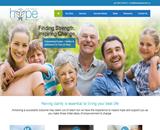 The Family Hope Clinic has been empowering couples, families and individuals for more than 20 years, providing couples of counselling that can bring healing and wholeness into their relationship through their unique counselling services.
All services include support to clients to discover their strengths and feel inspired to remove the barriers this may be blocking increased well-being. Each client co-creates a plan with the therapist to increase wellness. The plan is measurable and includes skills, strategies and necessary resources to support wellness. Goals are regularly monitored and adjusted to reflect the client's unique needs and desires for change.
When you make the call to Family Hope Clinic, you will be in touch with a professional who has the skills and experience to provide excellent couples counselling to you and your partner. You'll be glad you made the call and you'll be well on your way to receiving the caring, professional counselling that you're looking for.
When you call the Family Hope Clinic in Langley at 604.510.4673, you'll understand why their client base is strong and growing, and why they have come to be known as a trusted counselling clinic. The Family Hope Clinic was created as a place of hope and collaboration for couples, families and individuals. They warmly welcome couples who may be trying out counselling for the first time, or may have encountered one or more negative past experiences. At Family Hope, you will consult with one of their seasoned, best-practice clinicians. Their professional office provides a tranquil space to learn the practice of self-care and methods to experience change.
The services and packages offered by Family Hope address the most prevalent issues in mental health, including marriage, couples and family related concerns. Their greatest passion is to offer timely, relevant service that helps to build strong relationships and learn strategies to cope with your concerns.
At The Family Hope Clinic, all people are respected and valued for their unique qualities and strengths that they bring to the table. The therapeutic relationship is founded on the belief that all individuals have an innate drive toward healing and wholeness. Since they believe that people who are faced with challenging situations do their best to cope using the skills that they know, their desire is to increase coping skills and educate couples to make better decisions during those challenging situations.
Family Hope Clinic offers affordable rates that are available to browse through on their website at familyhopeclinic.com, where hourly rates and packages can be purchased. New client consultations are free for the 50 minute session. They offer a wide range of payment options including paypal.
Why wait another day when you can enjoy the numerous benefits of couples counselling in Langley at the Family Hope Clinic, where you will receive the best professional counselling service in the area? One phone call is all it will take to convince you that you've made the right choice.