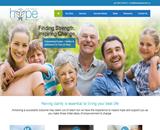 At The Family Hope Clinic in Surrey, their children and youth counselling programs provide support to children and youth who are experiencing issues concerning emotional, behavioural, social or learning problems. This support is facilitated largely through the use of art, play, music, writing, storytelling, movement and relaxation strategies. The Family Hope Clinic has been empowering couples, families and individuals for over 20 years with a highly professional staff with the experience to meet the needs of a wide range of issues.
All child counselling and therapy programs begin with the first session being a 'parent-only' session. During this initial phase, parents may speak openly about their concerns and any observations they have about their child, as well as talk to the therapist about what the counselling process might entail. Parental participation is highly valued, and Family Hope believes that this can be extremely important to helping resolve many problems that initially brought the child or youth into therapy.
In certain cases when someone from the child's school setting has expressed behavioural concerns, it may be beneficial to consider providing consent to the therapist to consult with the personnel from the school or request that the therapist attend school meetings. This may assist the therapist in gaining a fuller understanding of your child's experience within the community as well as providing opportunity for consultation support to school personnel that could ensure continuity of strategies for your child. Our professional children's counsellor ensures to maintain confidentiality about every session. By the same token, however, vital information that relates to how family members can support change will be openly shared with parents.
The Family Hope Clinic also provides Child Life Specialist Support, another type of counselling for children, in Surrey. The specific role of a Child Life Specialist is to teach, prepare and support children, youth and families while enhancing coping strategies during a difficult and unpredictable time. One of the most important roles of a Child Life Specialist is to clarify potentially confusing procedures and medical jargon. This is done through play. Another core component of a Child Life Specialist offering counselling for children is to provide emotional support during procedures and testing.
One example of a session with a child who is preparing for a medical procedure could include elements of creative modalities such as play, art or music. Child Life Specialists often work out of hospitals, supporting children, youth and families during acute phases. This type of service within the community can enhance early intervention and increase coping and management. Child Life services are covered under most extended health care plans.
The Family Hope Clinic was created as a place of hope and collaboration for couples, families and individuals and provides excellent counseling for children, youth, individuals and families in the Surrey area. Why not give them a call at 604.510.4673 to find out how they can be of service to your family? You can also visit their website at familyhopeclinic.com to have a closer look at what they provide to your community.