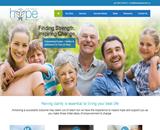 Art Therapy in Surrey is never further away than one phone call to The Family Hope Clinic, where you will be met by a professional staff of clinicians who will work you or your family member to bring about the desired results. Family Hope has been empowering couples, families and individuals for over 20 years.
Art, play and expressive modalities are natural modalities for children and youth to express themselves and their unique experience of the world in which they live.
Art Therapy is a holistic counseling approach that engages the mind, body and spirit and is appropriate for all ages, not only for children. This is a gentle, non-intrusive, client-centered therapy that facilitates the expression of thoughts, feelings and memories that may or may not be easily expressed by words.
Since the parent-child relationship is the most primary relationship, the parent is the child's first teacher. At Family Hope Clinic, we honor this important relationship and work to resolve conflicts within by repairing or enhancing the connection between parent and child. It is not uncommon for communication patterns to have become strained between parents and children when ongoing expectations for conflict or problematic behavior may be anticipated. Family Hope will fully support parents to have the tools to support their children and their individual family's needs. In some cases they will work with the entire family to enhance the connectedness and healthy family support.
The first Art Therapy session for children or youth is a parent only session that allows for parents to discuss their child's unfolding development and current concerns that are being brought to therapy. Both parents are strongly encouraged to attend because each parent is significant in the therapist's understanding of your child.
In Surrey, your Art Therapy place to go is the Family Hope Clinic, where your child will enjoy expressive interaction designed to enhance the home relationship between parent and child.
In specific cases of separation or divorce, it is important that each parent knows that the therapist is unbiased and available to discuss the child's progress with either parent, unless legal documentation dictated otherwise.
What can you expect from Art Therapy Sessions at the Surrey Family Hope Clinic? Numerous parents have reported that after their child has attended art or play therapy sessions, they noticed their child demonstrating less anxiety and angry outburts, greater concentration, positive self-talk, improved sleep habits and relationships with peers and family members. Of course, results will vary and are unique to each situation, however these results are reflective of emotional regulation and inner-relation skills, which can be achieved through art, play and expressive modalities.
The art therapist's role is to facilitate and witness the unfolding creative process. Art therapy does not require any previous art experience, merely a desire to connect with the natural healing process of one's own creativity. Call The Family Hope Clinic in Surrey today to find out how they can be of service to your family.