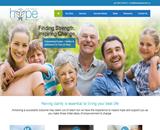 If you're struggling with anxiety, you may have many questions that you want answered, such as whether or not anxiety is normal, and if your level of anxiety falls under the normal boundaries. The Family Hope Clinic in Surrey can help you answer those questions and any others you may have about the issues you are dealing with in regards to anxiety. They have been empowering couples, families and individuals for over 20 years with their commitment to healing and wholeness provided by their professional clinicians.
While everyone experiences anxiety from time to time, some levels are considered normal, such as how you feel on the first day at school, in anticipation of an upcoming test or even during a job interview. This type of anxiety is considered normal, providing it does not interfere with your achievement of goals or negatively impact your life or relationships. Excessive anxiety is a problem though, and can cause significant distress.
Since anxiety can look different to different people, it's important to be able to recognize some of the more common anxiety symptoms, which include:
– Panic attacks with or without worry of subsequent attacks
– Fear of being placed in certain situations or encountering things, such as standing in crowds, line-ups, on bridges, buses, spiders, elevators, snakes, etc.
– Worry about being watched in social situations with a fear of a negative evaluation by others
– Excessive, uncontrollable worry about work, school, the future, health, family, etc.
– Unwanted, intrusive thoughts that are difficult to manage, or the need to perform ritualistic or repeated behaviors in order to reduce the anxiety
– Reliving a fearful or traumatic event, causing tension, discomfort or physical pain
In order to make a good determination of whether you have a problem with anxiety, ask yourself
– How often am I experiencing these bouts of anxiety?
– Am I having more difficulty coping with my symptoms alone?
– Am I having trouble functioning in my daily life?
Family Hope in Surrey can help you with answering these questions and discerning whether you have other questions that need answers.
There are a great many benefits of both anxiety group and individual counseling. Some of them include:
– The powerful, positive experience of talking about anxiety in a group where you will meet and hear from other people who are also experiencing anxiety
– Learning to identify your own anxiety through observing others walking through a similar experience
– Identifying how anxiety affects your body, thoughts, feelings and decisions through education and observation
– Strategy development designed to help you cope with your anxiety
– Relaxation training geared toward maintaining greater balance and less worry in your day to day life.
Don't be one of the growing number of people who suffer with anxiety in silence and fear. Anxiety is treatable. Research has shown that untreated anxiety leads to other issues that affect our mental and physical health. In Surrey, please call The Family Hope Clinic at 604.510.4673 and let a professional assist you to live more freely. Don't wait another day.