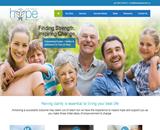 For the best anxiety counseling service available in the Langley area, The Family Hope Clinic is there to meet the needs of their patients by empowering families, couples and individuals with over 20 years of experience and skill.
Fear and anxiety are natural states of a human being. Often we try to rid ourselves of these uncomfortable feelings, when instead mindfulness teaches us to change our relationship to anxiety rather than attempt to push anxiety away, which generally only makes it worse. The practice of mindfulness allows control of how we react to anxiety, rather than being controlled by it. The roots of mindfulness appear in the Buddhist philosophy and involve bringing curiosity and compassion to your experiences in each present moment.
The Family Hope Clinic was created as a place of hope and collaboration for couples, families and individuals. They especially want to consult with clients who may have had a negative experience in the past or those who may be trying out counseling for the first time. Clients will consult with one of their seasoned, best-practice skilled clinicians.
If you're trying to deal with anxiety, you don't want to go it alone. You'll want to visit the place with professional staff members who are skilled and able to meet your individual needs. For help with anxiety, call the Family Hope Clinic at 604.510.4673 or visit their world wide website at familyhopeclinic.com where you will be able to read about the wide range of services they provide for their customers.
It's comforting to read through some of the success stories from real clients who have visited the Family Hope Clinic and have found restored healing and wholeness through their counseling. Family Hope's website also provides a comprehensive list of their rates. They provide a free 50 minute consultation session and offer affordable family and individual rates. There is even the convenience of paying for sessions on their website where they accept a wide variety of payment options including paypal.
At the Family Hope Clinic, all people are respected and valued for their unique qualities and strengths that they bring to the counseling relationship. The therapeutic relationship is founded on the belief that all individuals have an innate drive toward healing and wholeness.
Everyone feels anxiety from time to time, such as on their first day of school, in anticipation of an upcoming test or during an interview. While this level of anxiety is considered a normal reaction to stress, excessive anxiety can be a problem if it hampers you from achieving your goals or negatively impacts your life or relationships. Since anxiety can look and feel different to different people, you need the professional services of a counselor to help you.
When you call the Family Hope Clinic, you can be sure that you'll be speaking with a professional who will put you in touch with the best counseling service in the Langley area, one who will not waste your time or money or leave you wondering whether you made the right decision.